Compare Kettle Corn Machines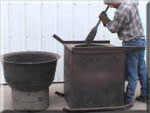 Kettle corn poppers are not all the same. We know what it's like to pop kettle corn with an open kettle. The steam rolls up into your face all day long. Your back is tired from bending over the open kettle for eight hours or longer. Your arms ache from the constant stirring with that big paddle. The kettle is messy from the oil spills and drips you have from ladling oil all day. And you have to constantly protect yourself from the hot flying popcorn missiles that could fly out of the kettle at any time. We have found a better way to pop kettle corn - the KettleKorn Express® kettle corn popper.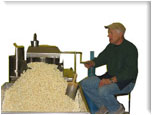 The KettleKorn Express® is better, faster and cleaner than an open kettle, and it is a powerhouse when it comes to making kettle corn. The KettleKorn Express® is simply the best choice in kettle corn popping equipment because of three distinct advantages:
Easy operation! No more stirring with a boat oar over a hot, steamy kettle.
Consistently perfect batches of great tasting kettle korn.
High volume from a clean, enclosed kettle which has passed the rigorous NSF Certification process.
The KettleKorn Express® will pop as fast as two people can bag and sell, about the $450 per hour range. If your machine can only pop $350 per hour, you are sacrificing $1,000 per day in revenue.The best feature of the machine is found at the end of the day when you're not exhausted. The KettleKorn Express® does all the work! You really can't put a price on that.
Stay informed by subscribing to our list. Your email address will never be shared, promise!